7/27/12
See the rest of the Cullen family at Source
breakingdawnmovie.org
6/19/12
Happy Birthday Edward Cullen!
*I don't know the original source of the first one but it is my all time favorite manpic of Edward!*-cj
11/12/11


Kellan Lutz told OnTheRedCarpet.com that it wasn't a stretch for him to play a god in "Immortals," because after the "Twilight Saga," he's used to being immortal. "It's fun playing an immortal character. I play Emmett in 'Twilight,' who's a vampire, he's super strong so he's not afraid of death or being eliminated,"

Lutz told OnTheRedCarpet.com host Chris Balish at the Los Angeles premiere of "Immortals" on November 7. "Poseidon's kind of the same way -- he's the happy uncle to all the younger gods. Even though he's a god, he's a youthful god and he gets to play around and push buttons with Zeus as far as not to mingle with the humans and mankind. He takes a big swim. So, it's fun playing an immortal character."


11/10/11
The Fab Life wants to know. Are you a Jasper or Emmett fan?

"
I realize I am causing your heads to hurt with this one, Twilighters. Or not. I know there are the die-hard Jasper and Emmett supporters who have eyes for no one but their chosen Cullen vampire. But then there are those of us who will have a very hard time deciding between Kellan Lutz and Jackson Rathbone. But in honor of next week's Breaking Dawn premiere, we are MAKING you choose."
Read more and Vote now at The Fab Life!
10/10/10
Kellan Lutz attended the DVD and merchandise presentation ofTwilight Eclipse at the Hotel Melia during the 43rd Sitges Film Festival in Sitges, Spain on October 9th. As expected, there were thousands of screaming girls there to greet him.
He admitted that he had little knowledge about the series or vampires in general before being cast for the first Twilight installment.
"I knew that there were books, I loved the script," Lutz said. Yet he said he 'closely identified' with Emmett Cullen who is a brother to the Cullen family which was similar to Kellan himself. His Midwestern family had only one costume, which was a vampire cape that he used frequently to dress up as his favorite villain. "They are very sexy and mysterious,"Kellan said.
Check out the full article with pictures at
Celebuzz
9/21/10
Forget Team Edward: When "Twilight" vampire Kellan Lutz visited Washington, he was on Team Education.
The actor, who plays Emmett Cullen in the series, gave an overly enthusiastic talk on the National Mall on Tuesday to inspire kids to stay in school and to honor communities that are achieving just that. He used his own high school experience growing up in Scottsdale, Ariz., to make his point.
"I tried really hard in high school because my classes were free, it was a good education, and I had a ton of brothers to pick on me, so it was good to be out of the house and doing something productive," he said, to an occasional scream from a "Twilight" fan.
Lutz talked about his passion for math and chemistry and explained to the audience that he wanted to be a chemical engineer before he stumbled into acting. He also wasn't afraid to sound like a nerd.
"I loved everything in high school," Lutz told Yeas & Nays. "I just had a passion for learning and I loved sports, I played football and I did marching band, [I played the] trombone, and I really loved all the opportunities in high school."
"What I love about my cast is they all have their own kind of charity that is near and dear to their heart, I love kids and animals," he said. "Everyone is giving back, you know, because we have been so blessed."
8/15/10
In a new interview with Tribute.com, Kellan Lutz talked about his experience making
The Twilight Saga: Eclipse
and how he'd like to introduce some of the backstory for "Emmett Cullen" as well. "Jackson [Rathbone] who plays Jasper had a great time showing the backstory in the flashback scene. I wish I could do that for Emmett. I wish there was a place in the movies where I could. And there is an excerpt on Stephenie Meyer's website where it talks about Emmett and the bear and his relationship . . . with Edward and how he became a vampire, and, you know, it would be really fun to show that. I think we all have such a taste of our characters . . . that we're just excited that the movies grow and expand."
1/18/10
Kellan Lutz ("Emmett Cullen" in The Twilight Saga: New Moon and The Twilight Saga: Eclipse) recently did an interview with TG TV where he got to shed some light on fun - albeit quite strange - encounters that he has had with both Twilight fans and the paparazzi.

12/18/09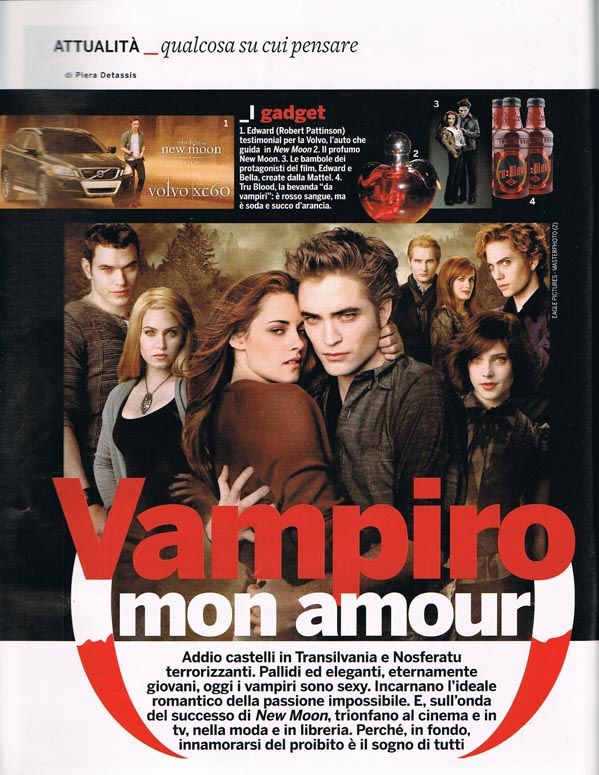 Edward can hold me like that anytime!

6/24/09
Today is all about our fav big brother, Emmett Cullen!
"I'm really glad Edward didn't kill you. Everything's so much more fun with you around."
Emmett Cullen
,
Eclipse
"You're monopolizing the bride. Let me dance with my little sister. This could be my last chance to make her blush."
Emmett Cullen
,
Breaking Dawn
"So it's still standing? I would've thought you two had knocked it to rubble by now. What were you doing last night? Discussing the national debt?"
Emmett Cullen
,
Breaking Dawn
"I'm sure you'll ace your classes… apparently there's nothing interesting for you to do at night besides study."
Emmett Cullen
,
Breaking Dawn